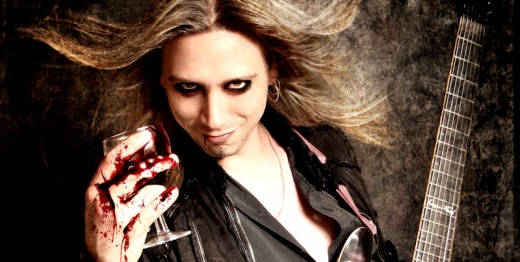 Stéphan is at the moment recording the guitars for his first instrumental solo album entitled: The Shadows Compendium. The album is planned for a release around the end of 2010. So far the confirmed guests are Jeff Loomis (Nevermore) Shrapnel artists Derek Taylor, Rusty Cooley and Motorhead's Phil Campbell. Some other guests will be announced shortly.
Photograph/graphic designer
Perrine Perez Fuentes
, who previously worked with Adagio for the re-edition of Adagio's live album "A Band In Upperworld" will be in charge of the artwork and photos of the album.
Stéphan: " I am in the middle of the guitar recordings at the moment, so far it's going great ! I already received Derek's guest solo, which is of course absolutely insane, lots of shred and twisted harmonies, and I will soon be receiving Jeff, Rusty and Phil's solos. I am very honoured to have such talented friends participating to my album and I'm of course more than impatient to hear their incredible stuff. Some other prestigious guests will be announced soon."
So far the album features 9 instrumental songs, most of it is really heavy and of course very dark and shred oriented guitar wise.
Kevin Codfert
will handle the mixing and recording duties, and of course all keyboards and piano parts.