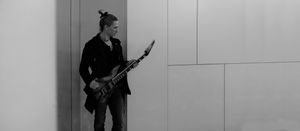 T H E   H I S T O R Y   S O   F A R . . .
by Corbin Reiff - Rolling Stone magazine
-
French guitar virtuoso Stéphan Forté is a musician unlike any other. As a solo artist and with his band Adagio, Forté has spent the better part of his impressive career blending elements of neo-classic metal in the model of players like Yngwie Malmsteen with modern flavors to create a sound all it's own. By highlighting the beauty found in the darker aspects of the human condition, Forté constructs intricate musical compositions that are staggering in their beauty and breathtaking in the technical acumen.

Forté was gifted with his first acoustic guitar by his older brother at the age of five and immediately began learning to play songs by artists like Alice Cooper and AC/DC. At the age of fourteen, he upgraded to an electric guitar and made a discovery that would change the course of his life: "I discovered [Yngwie] Malmsteen and all the Neo-Classical music," he said. "From that point, I knew what I wanted to do with my life."

In 1996, he graduated from the prestigious CMCN music school in France and began immediately working on his first demo. The 4-song EP titled Visionsturned quite a few heads in the music world for it's stylistically dark undertones and mind-bending fretboard wizardry and secured Forté his first full endorsement deals from Godin guitars and Rocktron effects pedals.

Five years later after touring and recording in all parts of the world, Forté released the first record with his band Adagio titled Sanctus Ignis. It was the beginning of a nearly ten year partnership that saw the release of a further six records, all released to critical acclaim. Of their last studio record, Encyclopaedis Metallum wrote, "If ever there was a prog/power metal album that deserves more recognition, its Underworld. A highly impressive slice of music, haunting, dark, majestic, grand, I could sit and drop superlatives all day."
In 2011, Forté released his first solo record The Shadows Compendium, Ultimate-Guitar wrote, "I was impressed by the different styles that the album had and the variations of the instruments in every song which Stéphan used to create a dark feeling." Metal-Temple said, "Let me start off by asking a question – how the hell have I not heard of Stéphan Forté before now? Seriously, this dude is amazing. And considering the caliber of special guests present on The Shadows Compendium, Mr. Forté has got the world at his feet right now." And Something Else Reviews noted, "The Shadows Compendium is a shred instrumental album that can blow your mind while you're listening to it, yet leave you humming the melodies hours later. That's a rare and beautiful thing."
Throughout his career Forté has been heavily influenced by the work of fellow guitar virtuoso Jason Becker. On The Shadows Compendium, Forté even went so far at to dedicate the song "De Praestigiis Daemonum" to Becker's honor. Shortly after the song's release, he was asked to partake in the Jason Becker Festival, Not Dead Yet where he shared the stage alongside such other guitar greats like Guthrie Govan, Michael Lee Firkins and Stu Hamm. One person who came away impressed with the Forté's performance was Becker himself who'd been watching the show via Skype. "To this day, this is one of the most powerful and impressive moments of my whole life," Forte said.  "He enjoyed it and said he'd be happy if I'd come by his house after the NAMM Show. So a couple months later, I was there, played for him, and now, I'm going there every year. It's become a tradition."
Forté has spent the last few years touring the world supporting some of the biggest names in music, including one of his personal heroes, Marty Friedman. He's also kept himself busy writing, recording and mixing his latest record Enigma Opera Black a modern, neo-classical metal masterpiece. For his latest work, Forté continues his tradition of pushing the sonic envelope in an unending quest to discover new beauty amid the darkness.